Decentralized torrent search network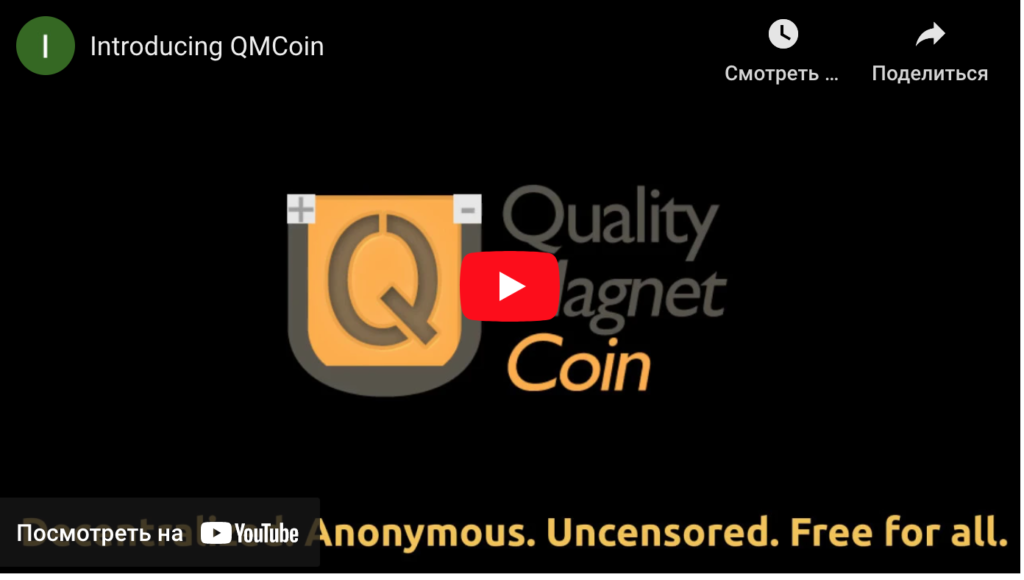 QMC is designed to be a decentralized database of magnet links for you to download, stream, read and share information through, without censorship or political borders. Only consensus.
Unlike other coins that "promise" a ROI based on guesswork – we eliminated the luck factor altogether. Most coins rely solely on code to determine what rewards should be given out to who based on arbitrary numbers of blocks or days – this concept is old and misleading- so we've done few things differently.
Besides earning coins from a Masternode or Staking (Proof-of-Stake), you can also earn QMC, simply by sharing high quality magnets.
Built with your privacy in mind – QMC supports all the outstanding mixing functions from the zerocoin protocol and private
communication functions from the ZMQ protocol.
You can submit high quality links at the cost of 1 QMC – and if it is voted by our users as good quality – you get 5 QMC back the next month! TOR is implemented and is enabled by default for wallets, so everyone can access the network with total anonymity!
Type: Masternode/POS
Algo: XEVAN
Reward Split: 70% MN / 30% POS
Block Time: 60 Seconds
Confirmations: 6
Masternode Confirmations: 15
Minimum coins required for staking: 10
POS Maturity Time: 2 hours
Total Coin Supply: 42,000,000
Premine: 2.7% (1,134,000 coins)
Instead of guessing or assuming we will reach X block in Y time and give out a Z reward, we use a next generation block reward and masternode collateral requirement mathematically proven module.
Block rewards are calculated based on the amount of active masternodes on the network, and so is the collateral amount required to start a masternode.
Even when the masternode collateral increases – your old masternode stays valid. That means no need to buy more coins to keep your MN running and also means your 2000 QMC masternode will always be worth more in the future.
Rewards
Block rewards are calculated based on the amount of active masternodes on the network. And so is the collateral amount required to start a masternode.
Premine coin distribution
Maximum coin supply is 42 million. Premine is 2.7% (1,134,000 coins).
Below you can see Premine coin distribution:
Distributed between team members
Rreserved for further development and marketing costs
Reserved for airdrops and bounties
Allocated for public sale
Q3 2018.
Code release to public
ICO / IMNO launch
Minor advertising and introduction about the project
Q4 2018.
Magnet link submissions by community started
Listing on exchanges
Shared & Hosted MN listings
Quality Magnet Tool bundled with wallets
Website and detailed roadmap release
Q1 2019.
First release of QMC Web API (own magnet link website in 1 click)
Larger exchange listings
First partnership with VPN and Private tracker
(who will accept payment in QMC)
Mobile wallet release
Better rating and voting mechanism
Update to enable masternodes to host behind TOR network
Q2 2019.
Convert QMT into C++
Embed QMT into the wallet entirly
First 100,000 magnet links to be listed
Switch to bi-weekly payouts for quality link submissions
Q3 2019.
Expansion of payment partners (who accept QMC as payment)
More private trackers and other related service providers
Decentralized Streaming of content from the QMC network
Q4 2019.
Mobile platforms: Search and stream support
Final version of WEB API
Final version of QMC UI
QMC Sub-Network as a private tracker
Wallets come bundled with a tool called QMT – The Quality Magnet Tool. Use it to make searching, downloading and streaming torrents/magnet links easy and accessible to anyone for free. We've also created a in-wallet search that doesn't require our external tool. But QMT (Quality Magnet Tool) remains the easiest option for submitting new torrents to the decentralized database.
As a project that focuses on decentralization and freedom of information, we have prioritized the listing of our coin to first be listed on decentralized exchanges before approaching the mainstream / centralized market.
if you have any question or suggestion
For any questions you might have feel free to contact us: